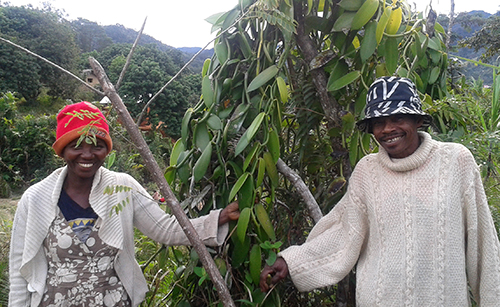 vanilla growers 500 bdcc1[Vanilla farmers in Madagascar.]Following the successful Zambia Farmer-to-Farmer (F2F) project, which trained more than 950 farmers in 167 volunteer days, NCBA CLUSA will continue to offer opportunities to American agriculture and cooperative professionals to train smallholder farmers through a new F2F project in Madagascar.

Through July 2017, eight short-term volunteer assignments will be conducted in Madagascar focusing on vanilla producers and cooperative development. The $150,000 project is funded through the U.S. Agency for International Development (USAID) and VEGA's Farmer-to-Farmer Special Program Support Project.

Through this new F2F project, known as Advancing Vanilla through Cooperative Enterprise (F2F ADVANCE), volunteers will work with a total of 300 smallholder vanilla farmers, helping groups organize themselves into cooperatives. Volunteers will help register the cooperatives with the local government and provide trainings in management, governance and strategic planning so that the co-ops are able to better serve their members and collectively address the problems they face with vanilla production, including vanilla crop theft, access to finance and technology, poor infrastructure and transport, and limited capacity for value-addition activities.

While the Government of Madagascar does have a cooperative law and supports cooperative development in the country, there is limited capacity in and knowledge of co-op development and governance. Training from cooperative professionals is needed and expected to be impactful.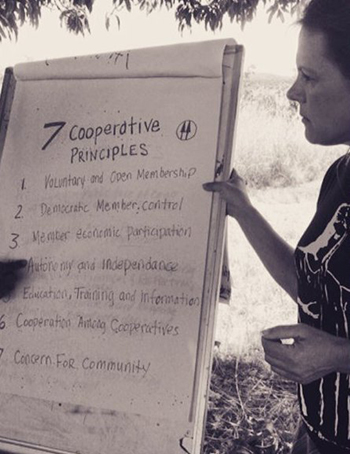 Molllie Zambia copy web d5d8b[Molllie Moisan, Director of Cooperative Development for NCBA CLUSA member Pachamama Coffee Cooperative, trains Zambian farmers on the Seven Cooperative Principles.]Working in the Sava and Vatovavy-Fitovinany regions, the volunteers will also be leveraging work with NCBA CLUSA's USAID Fararano project, which provides technical partnerships to vanilla farmers through the Catholic Relief Services (CRS)-led project.

Exporters and vanilla buyers also support this project. A Fortune 1000 U.S. Company and one of the main national exporters of vanilla in Madagascar are committed to building a sustainable vanilla value chain that provides fair prices to farmers and improves the quality of Madagascar vanilla, a win-win for farmers and buyers. Through these businesses' support, Madagascar would see an increase in quality vanilla product from farmers.

If you are interested in volunteering, email This email address is being protected from spambots. You need JavaScript enabled to view it. to learn about upcoming two- to three-week assignments in Madagascar and current volunteer opportunities in Senegal.

"I would definitely recommend the program," said Sequoia Ireland, a recently returned F2F volunteer who trained women farmers in Senegal on vegetable production and soil fertility techniques.

Through volunteers in Zambia, like Pachamama's Mollie Moisan and the 2015 VEGA Volunteer of the Year Winners Jock Brandis and Randy Shackleford, the F2F program can achieve big impacts. More than 950 farmers—almost 60 percent women—were trained in Zambia, meaning that over 5,500 farm family members benefited from the trainings and increased their income generation potential.

Continue to check back for new volunteer opportunities.