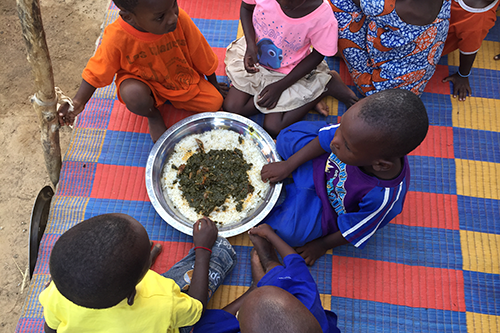 Children in Senegal enjoy community meal put on by a Mother's Group to showcase nutritious recipes as part of NCBA CLUSA's Feed the Future Project.The global poverty-fighting organization CARE, which was founded by the cooperative community in the 1940s, is leading a new commitment to global nutrition programming, securing a $1.17 billion pledge from 13 NGOs between 2018 and 2020 in partnership with InterAction and 1,000 Days. The announcement came at this month's Global Nutrition Summit.
NCBA CLUSA is part of that group of non-governmental organizations, pledging $3 million in private sector funding for nutrition programs.
The Global Nutrition Summit 2017, held in Milan, Italy on November 4, convened governments, cities, international agencies, foundations, civil society organizations and businesses to accelerate the global response to malnutrition, an underlying cause of nearly half of all global child deaths.
"The global malnutrition crisis endangers the physical and mental wellbeing of present and future generations" said Kofi Annan, speaking at the summit in his capacity as chair of the Kofi Annan Foundation. "Progress in tackling both undernutrition and obesity is possible with targeted commitments, like those made here today. We need further urgent investments so that people, communities and nations can reach their full potential."
The Global Nutrition Report 2017, launched at the summit, showed that in spite of progress, 155 million children globally are still stunted—they are too short for their age often due to lack of nutrients, impacting their physical and cognitive development—and the world is off track on meeting internationally agreed nutrition targets. Financing to tackle malnutrition has been alarmingly low. Donors spend less than 1 percent of overseas aid on nutrition, and countries allocate between 1 and 2 percent of their health budgets to the issue.
Four years ago, 30 members of InterAction, including CARE and NCBA CLUSA, collaborated to promote the importance of increased funding for nutrition programming around the world. At that time, the community pledged $750 million between 2013 and 2017 and impacted the lives of hundreds of thousands of women and children across the globe. This new, more robust commitment will also be used to target actions that improve the nutrition for mothers and children in the critical 1,000-day window between a woman's pregnancy and her child's second birthday.
Although most of NCBA CLUSA's projects have U.S. government funding, partnerships with local, national and international private sector firms on the ground are critical for program effectiveness. These partnerships can lead to dramatic results, such as the Feed the Future Yaajeende Project in Senegal, funded by the U.S. Agency for International Development (USAID), which saw a 30 percent reduction in stunting for children under age five. NCBA CLUSA will continue work in Senegal with the new Feed the Future Cultivating Nutrition Project.
Private funding dollars for international projects can come in the form of grants and project funders or as public-private partnerships on the ground where implementing partners agree to share some of the cost of a project.
Read the full Global Nutrition Summit Press release here.