Business Services
NCBA CLUSA's Associate Member program is designed to provide key business services and educational resources exclusively to NCBA CLUSA members. Associate Members are non-cooperative service providers that serve and do business with co-ops. NCBA CLUSA actively seeks out organizations with past experience working with cooperatives and whose services are relevant across the diverse cooperative sectors we serve.
Below is a list of current Associate Members and the business services they offer.
To learn more about our Associate Member page, click here.
What We Do
Our core services include web-based solutions for statistical data collection and analysis, online survey collection and implementation, and business website design and implementation. We cultivate an environment of constant learning and improvement as an organization so that we can provide the business and technical solutions that best meet your needs.
Who We Are
We're an eLearning solutions company for channel­-oriented organizations that value training.
We're focused on outcomes: increased sales, enhanced employee productivity and deepening brand affinity. We are thinkers, designers, trainers, programmers and, perhaps most importantly, listeners. Let's turn learning into a strategic asset for your company.
Leadership: Douglas Gastich | CEO and General Manager
Email: douglas.gastich@bluevolt.com | Phone: (503) 223-2583 x226 | Fax: 503-296-5326
Website: www.bluevolt.com
Headquarters: 2828 SW Corbett Ave., Suite 208, Portland, OR, 97201
What We Do
We live to build our clients' businesses.
While we serve a range of industries, our stake in skilled trades puts our clients at the center of our network of over 500 manufacturers, distributors, and trade associations. Our learning solutions are designed to turn your employees, members and channel partners into advocates. We do that with an LMS customized for channel-oriented organizations, custom courseware, a pre-­built course sharing network, strategic support from day one and a turnkey incentive program.
We put the EARN in learning.
Co-ops Our Organization Works With
Name
AD
ASA
IMARK Group
Equity Plumbing
Embassy Group
IBC
IDC
Organization

BLUE HAWK Distribution Cooperative
CCA Global Partners
Evergreen Marketing Group
NEMEON, Inc.
Primera Turf, Inc.
Sphere 1, Inc.
Starnet Commercial Flooring, Inc.
Leadership: Gary Pittsford, CFP ® | Chief Executive Officer
Business Development Contact: Amy Hayes | Communications Manager
Email: my@castle3.com | Phone: 317-849-9559 | Website: www.castle3.com
Headquarters: 9820 Westpoint Drive, Suite 200, Indianapolis, IN 46256-3363
Who We Are
Corcentric provides cloud-based financial process automation solutions including accounts payable and accounts receivable, e-invoicing, credit and collections management, working capital management, and reporting analytics. 
What We Do
Develop succession or transition plans for family business owners
Valuations for family business owners for reasons including gifting stock to family members, selling the company to non-family members, divorce, probate and retirement planning
Develop retirement income strategies that are important for the owners and family
Review and design estate documents to minimize estate taxes and protect closely-held family business assets
Develop long-term strategies to help protect and manage family wealth over many generations
Leadership: Dave Lindeen, Senior Vice President of Sales
Business Development Contact: Suzanne Rahman | National Account Manager
Email: srahman@corcentric.com | Phone: (630) 925-7688 | Website: www.corcentric.com
Headquarters: 7927 Jones Branch Drive, Suite 3200, McClean, 22102
What We Do
Corcentric offers two solutions: CorConnect, our accounts receivable platform; and COR360, our accounts payable platform. 
CorConnect tackles complex multi-enterprise commerce by removing the cost, friction, and risk from doing business in a complex B2B ecosystem. We digitize transactions across the network and enable companies to streamline, automate, and manage their transaction processes.
Our COR360 accounts payable workflow software is a configurable, SaaS solution that enables companies to automate their AP processes.
Who We Are
Crowe Horwath LLP is one of the largest public accounting, consulting, and technology firms in the United States. With offices coast to coast and 3,000 personnel, Crowe is recognized by many organizations as one of the country's best places to work. Crowe serves clients worldwide as an independent member of Crowe Horwath International, one of the largest global accounting networks in the world.
What We Do
With more than four decades of F&C industry experience, Crowe Horwath LLP is dedicated to providing services specifically designed for organizations focused on F&C production; processing; wholesale, distribution, and logistics; and retail sales and service. Crowe brings value to F&C organizations through audit, tax, advisory, risk, and performance services.
Leadership: Dave Swanson | Cooperative Law Practice Group Chair
Business Development Contact: Jayne E. Wilgus | Senior Marketing Events/Practice Group Coordinator
Email: wilgus.jayne@dorsey.com | Phone: (612) 343-8272 | Website: www.dorsey.com
Headquarters: 50 South Sixth Street, Suite 1500, Minneapolis, MN, 55402-149
Who We Are
Dorsey's Cooperative Law practice group is committed to the philosophy of working as a team with clients in order to meet the overall strategic objectives of the client's organization. We believe it is imperative for our team to understand the client's industry, long-term strategic objectives, and implementation strategies. With the team's understanding of industries that affect cooperatives, and the depth of resources and expertise in the legal aspects of transactions, markets and regulation, our cooperative group is uniquely positioned to effectively handle the legal needs of cooperative organizations, whether large or small.
What We Do
The Cooperative Law practice group consists of lawyers experienced in solving both simple and complex problems for cooperatives. Our lawyers counsel start-up organizations as well as large, regional and national cooperatives in such diverse industries as agriculture, energy and utilities, housing, professional services and healthcare.  We also represent other agriculture-related organizations such as commodity promotion groups, cooperative banks and cooperative trade associations.  The Cooperative Law practice group is a recognized national leader in the field of agribusiness and cooperative law, with more than 35 years of experience.
Our lawyers have widespread experience from such areas as project development and finance, mergers and acquisitions, real estate, labor, employment and employee benefits, environmental, land use and permits, securities, international and trade regulations, construction contracts, intellectual property and licensing, FERC and other regulatory matters, plus areas unique to cooperatives, including formation and organization, voting rights and governance issues, anti-trust/Capper Volstead Act and tax issues.  The group brings together lawyers from the firm's nationwide network of offices, each of which offers a unique set of capabilities delivered in a coordinated fashion. 
Who We Are
ECR Software Corp provides food co-ops with end-to-end store technology.  Solutions are developed, deployed, and serviced through our Boone, NC headquarters with regional representatives placed throughout the United States for optimal, fast service levels. We provide hardware, software, and services including: implementation, project management, consulting, training, and award-winning support.
Business Development Contact: Otis Flieth | VP of Sales
Email: oflieth@ecrs.com | Phone: (800) 211-1172 | Website: www.ecrs.com
Headquarters: 277 Howard St Boone NC, 28607
What We Do
ECRS' suite of offerings include point-of-sale (traditional, mobile, accelerated checkout, and self-service), reporting and analytics, inventory control and forecasting, electronic supplier integration, general ledger integration, membership management, eCoupon, eReceipt, PA-DSS certified payment processing, WIC, EBT processing, video-enabled customer display, item attribute labeling, remote kitchen printing, and fresh foods scale management.
Who We Are
Based in London, Ontario, LBMX is a leading provider of technology solutions exclusively for co-operatives, purchasing groups and their independent members.  The LBMX team of industry experts is proud to deliver an environment of growth and prosperity for customers throughout Canada, the United States, Australia and New Zealand. 
Business Development Contact: Robert Ward | Vice President, Sales & Marketing
Email: rward@lbmx.com | Phone: 519-850-5269 X105 | Fax: 519-850-2028 | Website: www.lbmx.com
Headquarters: 400 -148 Fullarton Street London Ontario N6A 5P3
What We Do
We help groups deliver on their value proposition with a suite of applications that utilize real-time data.  LBMX can help add value to your members while reducing costs through automated invoice processing, real-time rebate tracking, focused buying programs, business intelligence tools, and integrated ordering systems.
Who We Are
Mission
We provide software solutions that significantly and measurably increases the total value of a Buying/Marketing Group, Purchasing Co-operative/Association

Vision
We want to become the best IT partner that a Buying/Marketing Group, Purchasing Co-operative/Association can find in the entire world.

What We Do
We architect strategic and specialize software solutions for buying groups/marketing groups/purchasing associations/co-operatives that increases member participation and penetration, increases rebates and incentives, better manages vendor relationships and contracts so that your organization can leverage the buying power of independent dealers that join your group. Our best-practice solutions significantly lower your operational costs by providing efficiencies and processes that work best in organizations like yours. We have lived and worked very successfully in buying groups and intimately understand its challenges, triumphs and value proposition.
Samples, Graphics and/or Promotional Videos:
http://www.buyinggroupsoftware.com/solutions-buying-groups/
http://www.buyinggroupsoftware.com/#services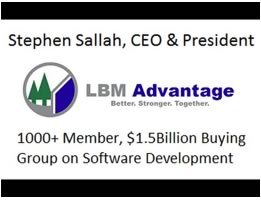 Who We Are
NSAC is comprised of professionals actively involved with the financial management of cooperatives. NSAC strives to provide accounting, tax and business education uniquely tailored to cooperatives while supporting cooperatives in business interests, and offering networking and professional development opportunities.
Leadership: Kimberly A. Fantaci | Executive Director
Business Development Contact: Jeff Roberts | Association Executive
Email: info@nsacoop.org | Phone: (937) 222-6707 | Website: www.nsac.coop
Headquarters: 136 South Keowee St., Dayton, OH, 45402
What We Do
NSAC provides a variety of training sessions, publications, networking and research tools to enhance the professional competence of its members and improve the level of service they can offer cooperatives.
Who We Are
Simply Voting is a comprehensive and secure online voting service. We manage elections for municipalities, political parties, unions, associations, student organizations and co-operatives in over 40 countries around the world. One voter one vote is guaranteed, full redundancy across the entire system, auditable and transparent, easy to use for both the voter and election managers, accessible - with an "A" grade from the Bureau of Internet Accessibility.
Leadership: Brian Lack | Founder & President
Business Development Contact: Steven Lattey | Business Development Director
Email: slattey@simplyvoting.com | Phone: 800-585-9694 x803 | Website: www.simplyvoting.com
Headquarters: 5253 Decarie Boulevard, Suite 250, Montreal, Quebec, Canada H3W 3C3
What We Do
We customize elections to meet your requirements, to engage your membership and to ensure that no member is disenfranchised.
Who We Are
At Wegner CPAs we understand that cooperatives are a unique type of organization that requires specialized professional services. Accountants without these distinctive skills lack the understanding to provide high-quality services to cooperative businesses. The Wegner CPAs cooperative group has over 65 years of combined knowledge and experience working in the cooperative sector. Our services are led by nationally recognized experts in the cooperative field. We currently work with over 60 cooperative groups all across the country including food, purchasing, housing, pharmacy, and worker co-ops.
What We Do
Assurance on the financial statements to the board of directors from outside professionals with knowledge of the industry.
Assurance to the co-op members that the organization's finances are being handled properly.
Assurance on the financial statements to external creditors or investors.
Recommendations on improvements in internal controls.
Tax returns prepared by accountants familiar with the nuances of cooperative income tax rules