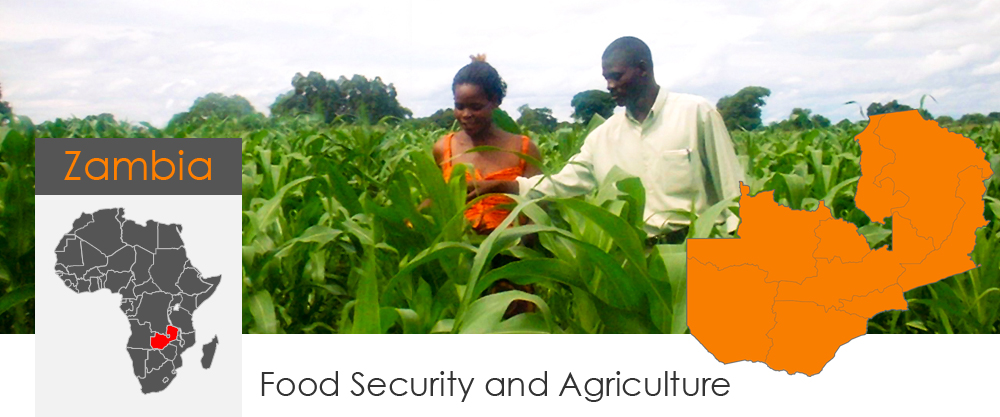 Zambia
Title: Production, Finance and Technology (PROFIT)
Sector: Food Security and Agriculture
Country: Zambia

Info Zambia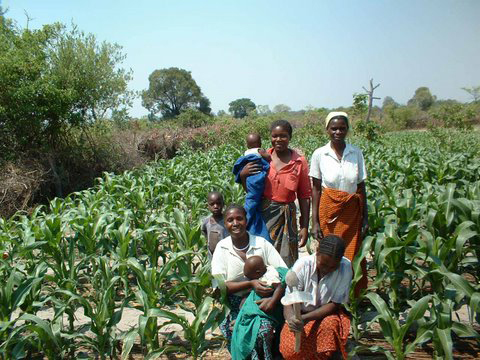 Women in Zambia

In Zambia, rural, small-scale farmer income is often limited due to obstacles such as low productivity, paucity of skills, gender inequality, weak value chain links, capital and policy constraints and the threat of HIV/AIDS. Faced by such challenges, farmers are often more concerned with meeting their day to day needs than maximizing the value of their output.
NCBA CLUSA, funded by its partnership with the United States Agency of International Development (USAID), implemented the 6 year and $22 million Production, Finance and Technology (PROFIT) program to enhance the competitiveness of the private sector This is accomplished by providing better access to markets, improved production technologies, and broader finance and business development services (BDS) while implementing initiatives to improve the enabling environment and reduce barriers to trade and investment in Zambia .. By targeting high potential industries, NCBA's CLUSA International Program is ushering in highly effective, modern value chains that are integrated horizontally and vertically, collaborate closely with both public and private sector actors and create economies of scale for not only the producers, but the processors and the suppliers, as well.
PROFIT's approach utilizes training techniques that address all elements of the value chain, from inputs and services to production, processing and marketing, while monitoring environmental and socio-cultural impacts of activities. NCBA CLUSA employs a Community-Based Service Provider (CBSP) approach to create locally sourced and trained professionals to work on behalf of Zambian input suppliers and financial service providers, giving small holders access to output enhancing resources such as tillage services, spray services, hybrid seeds, or access to credit and loans. There are over a million smallholders being serviced by 3,260 CBSPs. These communities have experienced a 50% reduction of input costs while seeing a 50% increase in yields. 14 Zambian agricultural input firms have integrated the CBSP approach into their business models and Financial Service Providers have lent nearly $16 million to purchase improved technology and inputs to 367,692 institutions through their respective CBSPs. Small holders in the beef and dairy industries are benefitting from similar practices, as PROFIT contributes to stimulating the growth of veterinary services and access to those services, thereby increasing producers' yields.
Over 6 years, around 500,000 farmers were trained in agricultural production and natural resource management and conservation and tens of thousands of hectares have come under modern farm management practices. Small scale producers usually excluded from financial markets have benefited from new PROFIT programs that utilize electronic voucher payments through cell phones, giving more choice to farmers and more business to input firms; a total number of 477,962 loans were accessed. In financial market development, PROFIT has facilitated significantly improved commercial relationships between input and services markets and smallholders that are leading to real economic growth at industry, firm and household levels. NCBA CLUSA continues to expand into new practices, piloting a carbon market initiative in agro-forestry to introduce small scale producers to the carbon credit exchange. NCBA CLUSA continues to advocate for a more liberalized commodity trading environment that would recognize the importance of small scale producers and continues to create innovative solutions.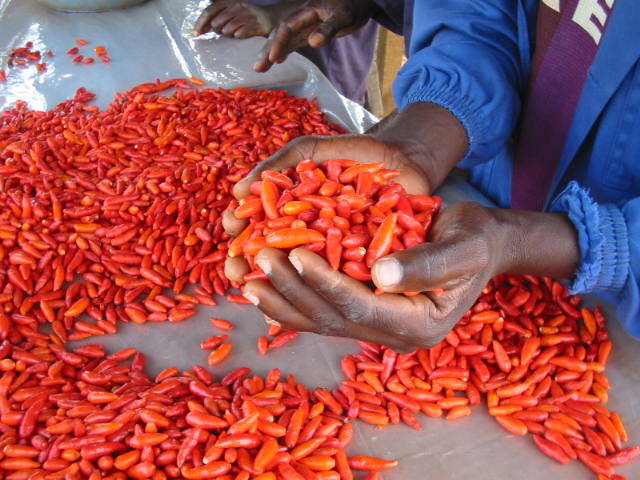 Zambia Graded Chilie

Taking Advantage of the E-Voucher Market Farmers that stand to benefit the most from agricultural input assistance are frequently at a disadvantage due to their exclusion from financial markets to access credit and loans. PROFIT project has begun to utilize an electronic voucher, or e-voucher, system to ensure access to financial opportunities for rural farmers. The e-voucher concept is having a huge impact on the delivery of loans, credit, market information, and sales to traditional excluded parties. Producers are now beginning to receive loan disbursements via cell phone, allowing them to bypass the usually lengthy and unreliable process of traditional paper vouchers. The use of cell phone technology allows for quicker turnover of funds and easier purchasing of input supplies. NCBA CLUSA is working alongside the World Food Program and United Nations Food and Agriculture Organization in expanding e-voucher programs in Zambia. Already, PROFIT has used a mobile payment system to carry over $2.3 million of micro-transactions, the bulk of which being e-vouchers.
Bydon Musukwa, 17 is an orphan at Chama Day High School in the Chama District. Bydon lives alone in a village near his school. Following the death of both of his parents, Bydon was faced with innumerable difficulties, least of all, the inability to support himself fiscally. This limited not only his ability to eat properly but also made it impossible for him to raise the required money for his school fees. Upon a lucky introduction to Mr. Bonnix Chawinga, Bydon found a way to support himself. Bonnix was a PROFIT trained cotton buyer and qualified Spray Service Provider (SSP), contracted by Birchand Cotton, a local cotton producer and buyer. Bonnix assisted Bydon in securing a grant from the cotton buyer to purchase a 0.5ha plot where he decided to grow cotton, under guidance from Bonnix. Following his first year of production, using the techniques taught to him by Bonnix, Bydon harvested 480kg of cotton, raising approximately $122: enough to pay his school fees ($70), Bonnix's service fees ($13) and pay back his loans. The growing of cotton, which is a cash crop, has assisted many households in Chama district to raise money for their children's school fees, pay for their medical bills and also for other household requirements.
"Farmers accessing the [CBSP] networks have witnessed yield increase of 30%-50% because of the knowledge they gain from the agents, the quality of the products and the timeliness of the delivery." "Greater Choice, Stronger Voice" USAID Frontlines, April 2009